Focusing on managing Texas wildlife habitat and natural resources for native and exotic wild game species, for this and future generation of hunters and outdoor enthusiasts.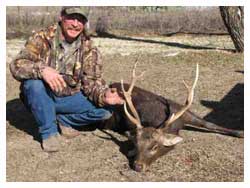 Although considered a highly prized trophy animal in North America and even in Europe, they have also been seen as sacred animals in the Japanese culture. The largest natural population in Japan was in the area of the island of Hokkaidō, where they were even used as
domestic animals for meat
. Over hunting of the
wild herds
almost caused extinction in the areas around Hokkaidō, however they were declared a protected species in the early 1900's and the population rapidly increased again until they reached their former levels. Currently regulated hunting is again permitted to help
control the population
and avoid over-competition for forage with livestock.
In several areas of Japan including the scared temple cities of Nara and Miyajima the
Sika deer
roam around the cities with the tourists. They can be fed by hand and are very tame and accepting of human contact. In other countries such as the Britain, France, Australia, New Zealand, Germany and Denmark there are both
managed herds
and completely wild populations. In European areas the
Sika deer
will breed with native Red Deer, resulting in a hybrid species that is considered to be a risk to the preservation of the purebred Sika and Red Deer populations. In the United States the species is found in wild and managed herds in Texas and Maryland. They can also be found on private reserves and zoos throughout the rest of the country.
What is the biggest challenge to hunting Sika deer?

Although they are a moderately
large deer species
, this deer is an expert at camouflage and blending into the natural surroundings. The experienced hunter may be surprised at the tricks that the
Sika deer
will use to evade being spotted. They will crouch down and even get into very thick wooded areas and stand amazingly still, allowing hunters to pass at close range without moving a muscle.
The Sika is also fast and runs in a relatively unpredictable pattern when started. They can leap, turn and dodge trees at an amazing speed, plus they are notoriously hard to hit with a kill shot unless the hunter is very accurate. This combination of intelligence, wiles and speed make them a true
hunting
challenge.
Labels: sika buck hunts, sika bucks, sika deer hunting