Focusing on managing Texas wildlife habitat and natural resources for native and exotic wild game species, for this and future generation of hunters and outdoor enthusiasts.
There are 6
fallow bucks
below the house at the feeder tonight, and these
sika bucks
and elk between Betty's and gravity. There was a
hog
chasing
blackbuck does
this am at tree, Betty was pissed, wanted me to drop everything and go kill the hog, but Lawrence is not on the
ranch
so I would have to clean it, not what I like to do before breakfast! It has been overcast and cool every day with sporadic rain, the high yesterday was 85, today 90! I have been working on roads and opening a new calachie pit between buck and intersection, we are trying to calachie the roads from the main road to buck, party, windmill, Betty's.
Labels: fallow deer, sika buck hunting, trophy black buck antelope, wild boar hunting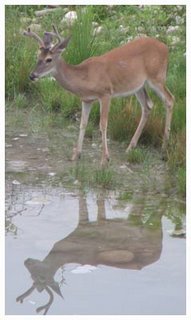 Well, it rained yesterday and was 67 degress at 2pm!!!! This morning it was still and foggy, the animals were out eating the green shoots that sprang up from the rain. We had a
turkey convention
below the house along the river. A large group of mothers and babies were being harassed by a group of teenage jakes.
Whitetail
,
axis
, and sika were seen, two
fallow bucks
were below the house. Well time to get to work on the roads!
Labels: axis deer hunting, escondido hunting ranch, south texas hunting ranch, texas whitetail deer