Focusing on managing Texas wildlife habitat and natural resources for native and exotic wild game species, for this and future generation of hunters and outdoor enthusiasts.
With the acorns still falling at
Escondido Ranch
, Jon and I knew we had to hunt hard to find the
trophy axis buck
he had yet to harvest in spite of his many years of
deer hunting
. With little chance of a
trophy size animal
walking up to a deer feeder, the evening after Christmas, we started our hunt at a stand overlooking an area in a nearby canyon where live oaks were adjacent to an
axis deer
bedding site.
As expected, the feeder went off and not a single
axis deer
, or deer of any type, for that matter, came to the feeder. The live oak grove 400 yards away, however, had
axis does
and
whitetail does
feeding on an abundant acorn crop.
We slipped out of the blind and stalked closer to see what else was feeding beneath the trees. Glassing over the area, we could see
bull elk
and
cow elk
,
whitetail bucks
and whitetail does,
fallow bucks
and even young axis bucks, but no
trophy size axis bucks
. With daylight nearly gone, we headed to the main lodge for some rest and Betty's fine cooking.
By the following morning, the temperature dipped to a very frosty 19 degrees. After a night of trying to stay warm, the
axis deer
were likely to fill up on oats, rye grass, and perhaps even hit a feeder or two. As a result, for that morning's hunt, we settled on Rattlesnake Blind located on an oat patch. From the blind's perch, we could keep watch over a known axis bedding spot located across the river as well as the nearby oat patch and the feeder.
As soon as the sun began caressing the top of the tree line, axis deer and
blackbuck antelope
began moving across the river valley. But, alas, no
trophy class axis deer
in sight. Even though, axis
deer hunting
requires patience, ours was running low as the cold began to seep through the multiple layers of heavy clothing.
Finally, we spotted a young axis buck peering from out of the brush. In spite of the shivering cold, we set still. Finally, after about twenty minutes, the
young axis buck
moved out into the open field. With an
axis deer
now feeding in the open, we felt more confident that other axis would soon join him. The added confidence also boosted our resolve to weather the cold.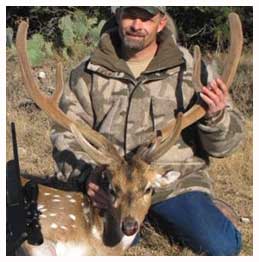 The sun began to peak from just over the hill, when suddenly, a group of
axis bucks
appeared out of the canyon and directly into the morning sunlight. I squinted as I glassed over the herd of
axis bucks
and whispered to Jon to get ready his rifle. As Jon brought his gun up towards the window, he accidentally tapped the inside of the blind and the resulting noise resinated in the cold air causing the ever-alert axis bucks to start moving towards the cover along the edge of the field.
I continued to scan the group of animals, and that's when I saw a wide, trophy
axis buck in velvet
. With excitement and anticipation, I directed Jon's attention towards the
trophy class animal
. Jon quickly found the axis buck in the scope. I gave him the go-ahead and moments later a shot shattered the morning's stillness. Through the binoculars, I saw the
axis deer
stumble as if hit, before it disappeared into the heavy brush cover. Now, we had to wait. Even though I was certain Jon hit the
axis buck
, it is always better to be patient and if necessary allow the deer to bed down and expire.
After thirty anxious minutes, with Jon questioning his 150 yard shot into the sun, we descended from the blind and walked over to where the axis deer was standing at the time of the shot. To our astonishment, we could not find blood, hair or any indication that the
axis buck
had even been hit. We scoured the frozen ground for any signs. Jon's excitement quickly morphed into concern.
After a thorough, localized effort, we finally decided to expand our search on a deer trail away from where we thought the
axis buck
had entered the brush. As we stepped onto the trail, to our relief... there it was, the axis velvet buck... stone cold dead! It was an awesome axis deer with an unusual spur off his main beam and an extra point on each of his eye guards.
From the Hunter:
I would like to thank you, your wife and Escondido Ranch foreman for the best hunting experience of my life. The accommodations and staff at your ranch were the best I have ever seen. You all made my trip a once in a lifetime opportunity.
I appreciate the kindness shown to me by all of you and hope to come visit you all on a future hunt. If you ever need any references, I would recommend you and your ranch to anyone looking for a quality hunt and exceptional staff.
Thank You for the hospitality, you and your wife have a lovely home, and I appreciate your kindness in allowing me join you for the weekend.
You all were the best.
Jon L Tanner
Houston, Texas
Labels: axis deer hunt in texas, trophy axis deer hunting
What started out to be a warm, December, Texas weekend turned into a chilly, but eventful hunting excursion at
Escondido Ranch
. Middle-of-the-week forecast promised 60s all the way through the weekend, but a northern front brought the temps down into the 40's. However, it could not have come at a better time. The animals seem to move better when day time temperatures stay below 50, and we had several
trophy hunters
coming to the ranch that weekend.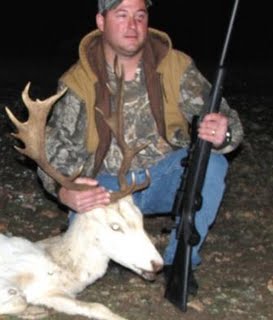 A good friend of mine who is a regular visitor at Escondido Ranch put in a tall order for a trophy Fallow buck. I had been communicating with him earlier in the week about a mature, trophy Fallow deer that was spotted on several occasions during prior hunts. I sent him some pics of the deer. Once he saw them, he was convinced he was making the right selection. The scene was set and I knew I had my work cut out for me. Even though my friend knows a thing or two about hunting himself, he was counting on me to put him on this amazing Fallow deer buck during the upcoming three-day weekend. Hunting a specific animal, especially a unique deer like this one, requires several days of scouting and preparation. It was a tall order, but I was up for the challenge.
We started out Friday evening by surveying the trails known to be used by this Fallow. We knew this was going to require time, stealth and a bit of luck to be able to get close enough for a shot. Saturday morning showed real promise because we actually had a visual of the deer at about 400 yards. The visual didn't last long, however, and the deer moved into the thick brush before we could get any closer. We noted where the Fallow buck entered the brush that morning, and decided that by that nightfall we would be able to flush him out or get down wind to close-in for an attempt. During that day, I came up with 3 options:
We would sit in a tower blind that allows greater visibility on the back side of Escondido Ranch.
We would get into a vehicle and drive around to see if the Fallow buck got careless and happened to be out grazing in an open field.
We would walk-and-stalk along known trails to see if we can spot the Fallow from afar and get close for a shot.
By the time Sunday evening rolled around, we exhausted all three options. We only had about 20 minutes of shooting light left when we decided to make a final pass by the area where we started our hunt, at the Buck Blind Pasture. This area offers ample cover for the cautious, mature bucks of all species, but is abundant with natural vegetation, keeping the big boys in the area. We were running out of light fast and were getting anxious to see the deer.
As I walked down the road to peek around the corner I saw a white silhouette of a Fallow deer. I was not sure if it was the Fallow deer we were looking for, but when, after a few tense moments, he finally raised his head, there was little doubt.
At that point we were at about 120 yards from the deer. I turned to my buddy and told him to "get ready to make a shot". The deer slowly moved into a clearing. The hunter took one last look and squeezed off the trigger, sending a bullet directly into the unsuspecting Fallow deer.
Great shot! We did it!!! We managed to harvest an awesome, mature, white Fallow buck at Escondido Ranch. What a Trophy! What an experience! What an adventure! It doesn't always work out in such a timely fashion, but we were thrilled that it did. Happy hunters are what we strive for at Escondido Ranch. I am certain that we accomplished it that weekend.
Labels: fallow deer hunting, texas fallow deer, trophy fallow bucks
The first week in October marks the
opening for bow season
in Texas every year. With much anticipation, hunters leave their residences and head for the hill country to their
hunting lease
or public land to potentially harvest that highly sought
trophy class whitetail buck
. Whether its a
magnificent trophy
above the fireplace, bragging rights to your friends or reason to give your wife or husband for all the time and money you've invested in hunting this elusive animal, I believe all three to be viable reasons to continue your pursuit.
When
managing whitetail deer
especially trophy class bucks it is important to shoot as many genetically inferior
whitetail bucks
as possible to ensure the highest number of trophy potentials for the following year. I look forward to this time of year because when you have as many whitetail deer that we do at
Escondido Ranch
you can really have your work cut out for you.
Managing whitetail deer
takes a lot of time, preparation, and knowledge of the animals. We take it all of it very serious at
Escondido Ranch
. We often use game cams to help us determine the
whitetail deer
we will need to harvest that year. This year due to the above average rainfall all year long, coupled with our year round supplemental feeding program, made it a perfect year to cull inferior deer.
That being said, there was a particular deer that kept popping up on our cameras at several different locations. He was a mature deer that had a typical brow tyne and 4 additional points on the right side, but had a cluster antler on the left. My mission was simple. I needed to find the target and eliminate him from the gene pool.
I actually spent several weekends hunting this
whitetail deer
, and finally, right after Thanksgiving weekend, managed to catch him in the open during peak rut. During the rut, the survival instinct of a
whitetail buck
takes a backseat to its overwhelming need to breed. The rut provides whitetail trophy hunters with a more leveled playing field .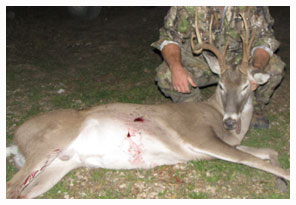 Once again, I started out that Saturday afternoon in pursuit of this particular buck. After covering most of the ranch in a vehicle, I spotted two bucks in a pasture. The first
whitetail
spooked, as do most deer out of rut. But the other one, the one I have been seeking, just stood there and looked in my direction. This was a large,
mature whitetail buck
.
I really wanted and needed to take out this animal. In a couple more weeks, when the rut is over, he would become a ghost. As I got into a shooting position, the deer turned and started quartering away from me. I still had a view of the vital and the subsequent shot was good enough to drop him in his tracks. Mission accomplished!
The
whitetail buck
ended up weighing upwards of 180 pounds. The meat was donated to the local Charity Wild Game Dinner in Junction, Texas.
Labels: whitetail buck hunts, whitetail deer management bucks