Focusing on managing Texas wildlife habitat and natural resources for native and exotic wild game species, for this and future generation of hunters and outdoor enthusiasts.
Many of you reading this post are no strangers to hog
hunting in Texas
. The story I'm about to share with you involves two country boys, lots of crossbred
feral hogs
and an advanced technology night vision scope. Enjoy!
My wife and I invited some friends, Stephen, his wife Christie and son Ryan to join us for a weekend of rest, relaxation, and of course, a little hunting, time permitting. Stephen has been a regular guest at
Escondido Ranch
. I've had the pleasure of guiding Stephen on several hunts and have been impressed by his long distance shooting and successes as a hunter.
Recently, we've noticed an increase in coyote sightings and wanted to get a few of these cunning
hunters
on the ground to protect our spring fawns. As a result, the week prior to the visit, we had been strategizing night predator hunting.
Growing up on a working farm in South Texas, Stephen was no stranger to harvesting coyotes and
wild feral hogs
. My task was to provide a predator call, while Stephen arranged to borrow his father's 'night vision' scope mounted on a Vietnam War era, semi-automatic M-4 (.223 caliber) gun. Stephen's family arrived to the ranch on Friday evening. Our guests' arrival was marked by the brightest moon in nearly 100 years. Stephen told me later that this was known as the 'Wolf Moon.' Truth or fiction, it did add a "spooky" factor to our weekend.
It did not take long for Stephen to produce the much anticipated night vision scope. That late evening, we stood on the veranda of the main house and scanned the river valley below through the scope. Everything came to life! I have never seen something so cool!
For those of us who were experiencing "night vision" for the first time, we were just amazed at the day-like clarity offered by this highly advanced optic. When looking into the scope you press your eye against the rubber protective piece and boooya…the night turns into day. For that time you have the same vision of the animals you are watching. Truly amazing! I was contemplating watching
Elk
,
Axis deer
,
Sika deer
,
Fallow deer
, and
Black Buck antelope
for a while longer, when Stephen spotted about dozen
wild hogs
meandering in the rocks next to the river. We lit them up with the scope and spied on them from about 400 yards away.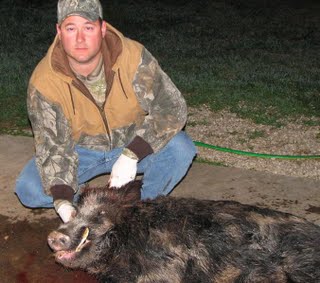 Wild pigs
are naturally intelligent and social animals and if you put too much hunting pressure on them they become 100% nocturnal. The last large,
wild boar
taken on the ranch was in early November and since then we had only trail cam photos of the
wild hogs
between the hours of 3-4 AM. Make no mistake, there are plenty of wild feral pigs on the ranch, but hunting them often becomes a night time event.
It was getting late. Both Stephen and I agreed that we need to get some rest and would try to put a sneak on
feral hogs
and do some predator calling the following night. On Saturday morning we hunted until about 9 AM with no luck. Stephen and I made our way back to the lodge where our wives and Ryan enjoyed the cool side of the pillow.
Escondido Ranch
is a great place to take the family and get away from the hustle and bustle. That afternoon we took a hike into one of the many beautiful canyons that encompass
Escondido Ranch
. It proved to be a worthy hike as little Ryan found his first antler shed. An
Axis Buck
dropped his antler and it became a ready made souvenir for the youngster. Unfortunately, Stephen's wife, Christie, had dropped her camera in a pool of water about 10 minutes prior, so pictures were on hold for now.
Nighttime was approaching and my anxiety level was escalating. I knew there would be hogs running tonight and I could hardly wait to give a few of them a dirt nap. For me,
hogs
are my favorite animals to hunt because there is enough danger involved that it creates an enhanced level of excitement. A wounded
hog
can be very dangerous due to their aggressive nature and razor sharp teeth. Historically, in places like Greece, Mesopotamia, New Zealand hunting
wild boars
was the right of passage for many of young man. Although, the long knife and shield has been replaced with a handgun, rifle and a shot gun, many, including myself, still prefer to hunt hogs with a bow and arrow. But not this weekend…This weekend the weapon of choice was the M-4 with a nightscope.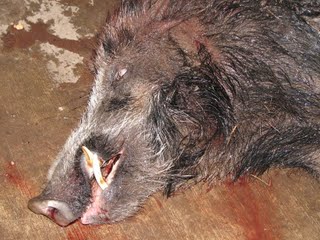 After supper, Stephen and I got into a truck about 9 PM. With a predator call, M-4 night vision scope and an abundance of determination we started our evening's hunt. We made the usual pass around the backside of the ranch at all the favorite "Porky's hideouts." Out of necessity, we were starting our hunt a little earlier than normal, but we were getting sleepy after eating a small feast for supper. Did I mention that the ranch received 3 inches of rain earlier in the week and the hog activity was at its peak?
We came down the hill into an area called "Windship." I threw the truck in neutral and killed the lights as we coasted towards the open field. When we emerged from behind the brush line, I stopped the truck and Stephen peaked into the scope, lighting the field up like the '4th of July.' He exclaimed "there is all kinds of
deer
in this field." I, on the other hand, could not see anything and was depending on Stephen for intel. The next moment, Stephen screams in a whisper "Hogs!" Apparently, three large wild hogs were making their way through the open field towards a feeder.
Stephen gave me a frame of reference of the hogs' whereabouts relative to the position of the truck. I knew it was going to be one hell of a shot because we were at least 200 yards away. Stephen found a good rest, leaned into the scope, selected the biggest of the three
boars
and squeezed….KAPOW!! "Hog down!" – he yelled out.
The bullet knocked the
wild boar
down and rolled the sucker about 5 yards. Although, the first shot clearly connected, at that distance and with an animal of that size we needed to make sure it stayed down. I threw the truck into drive and covered the distance to the point of impact in just a few seconds. But by the time we got to the spot, the
wild boar
was already up and hauling towards the brush. Stephen and I jumped out of the truck and the pursuit was on!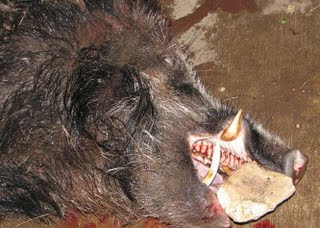 It was dark. Stephen was chasing the wounded
hog
through the brush with a flashlight and gun in tow. I was 20 yards behind trying to keep up. My heart was racing. We were pursuing this wounded beast with little visual orientation and relying almost solely on hearing to pick up the animal as the hog crushed its way through the underbrush. At that stage, the evolutionary instincts transformed Stephen into a
hunter
in pursuit of his prey. Get out the way…
The boar covered over 100 yards through the thicket before two more shots jolted me. Pow! Pow! I swear the echo from the gunfire lasted for nearly 10 seconds… or it could have just been the ringing in my ears. We eased up on the
wild boar
. The animal was down and out.
When we finally pulled
hog
out of the ravine and saw him in the light for the first time we gave each other a high five as if we had just won the Super Bowl. After an intense twenty minute pursuit, we were a little winded, but THRILLED to have captured our quarry. It was simply awesome!!
We later ranged Stephen first shot at the wild hog at 247 yards. What an awesome hunt at
Escondido Ranch
. This old, silver/ black feral hog and Russian boar cross-breed weighed in at 170 lbs, with 3 1/2 inch razor sharp tusks. Hope ya'll enjoy the pics!
Stay tuned for more night time
hunting excursions
. Peace.
Labels: feral hog hunts, texas wild boar hunting