Focusing on managing Texas wildlife habitat and natural resources for native and exotic wild game species, for this and future generation of hunters and outdoor enthusiasts.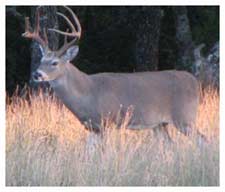 While this is sometimes given as a method of determining the age of a
whitetail buck
in reality it is simply not accurate or a true method of aging a buck. It is more likely that
Texas whitetail deer bucks
either have four or five tines on each antler once they reach maturity, not that they continue to get more as they age. Some researchers have indicated that the diameter of the beam or central part of the antler may be used for estimating age with the thicker the beam the older the buck. Other
researches
are less convinced that this is accurate since antlers are grown each year and poor grazing conditions or exceptionally good years can increase or decrease the diameter of the beam regardless of the age.

It is possible to tell the age by the teeth. Milk incisors will be shed sometime before 18 months and the teeth will have sharp ridges that have not yet been worn down from use. At approximately 2 years of age the molars are completely in and the full adult set of teeth is visible. By 5 years of age the teeth are starting to significantly wear and the grinding surfaces continue to wear with use.
Labels: texas hunting ranches, texas whitetail deer, trophy antlers, trophy whitetail buck